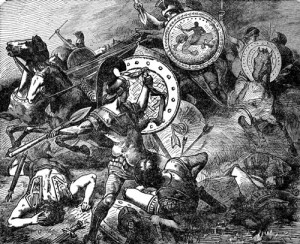 We Are True Men is a game poem for two or more male players. You will need something to drink, and a glass for each player. The beverage may or may not be alcoholic, but it is strongly recommended that it is.
The players in this game will play the roles of soldiers from an ancient empire. They may choose to be Romans, Macedonians, Vikings, Egyptians, Persians, Mongols, Samurai, Carthaginians, or men of any other well-known imperium, whether from the real world, or entirely fictional. Whomever they serve, they will be great warriors who have served together for many years, fought in and won many battles, and who know each other better perhaps than they know themselves.
The soldiers of the empire are gathered together tonight, the evening before their greatest battle. Although you have never seen defeat before, this will be a fight like none other, and it is very likely that you will die on the field tomorrow. The players will identify their enemy, and decide they are fighting, and why the battle tomorrow will be so great and terrible. The enemy may be historical or fictional, but they must be named. The dangers that you will face in the morning must be described in detail. This is an enemy greater than any other, and you have all survived many years of war, and you know that even though you may die, your death will be a noble and glorious one.
At the start of the game, the soldiers are gathered in their camp on the night before the fray to come, drinking and telling stories of your past triumphs in battle, bonding with your brothers in arms before facing the carnage that will surely follow the next day. When all of the players have come together, drinks in hand, the boldest of them will come forward and raise his glass in a toast to the greatness of the assembled company, and their valorous triumphs past. He will point to another player, name them, and describe a specific moment of significance of theirs from a previous battle. Perhaps he showed great bravery in the face of overwhelming odds, saved the lives of his fellow warriors, or lead his men to certain victory; perhaps he is simply a masterful soldier, who has slain his enemies in some spectacular fashion.
Whatever the great deed may have been, after the tale has been told, all present will cheer their comrade, raise their glasses to join in the toast, and drink heartily. The player who received the honor of a toast must then approach the one who gave him the accolades, and make some physical sign of brotherhood with him. A clasped arm, a strong hand on the shoulder, a sportive blow to the chin, a manly hug, whatever seems appropriate. They must then declare, "WE ARE TRUE MEN!", which will be met with another cheer from those present, as they make a bold statement relating the praise that they have just received to how fate will treat him in the coming battle. He may describe the manner in which he will defeat his adversaries, or how they will die with honor, or how he will throw himself on the sword of an enemy, trading his life for that of one of his brothers here.
That player will then turn to another, singling them out, calling them by name and similarly describing a heroic act that they have performed in a previous battle. Again, all present will cheer, toast their comrade, and drink. Again, the player who was toasted will make some physical act of fellowship with the one who toasted him; this act must be somehow greater than the previous ones. It must be more forceful, more intimate, or showing that the two men are closer to one another than they were earlier. This is important: each sign of brotherhood must be physical, and they must escalate in some way as the game progresses.
After the physical act, the player who was toasted must again declare "WE ARE TRUE MEN!", lead a cheer, and relate their commendation to the coming day. After their boast, they will call out another player, toast them, and the game will continue around in this fashion until it has reached its end. As the game progresses, as the warriors drink and toast each other, their behavior will become more intense. It is possible that previously unspoken rivalries will be aired; it is possible that garments will be pulled aside to display wounds from past conflicts; it is possible that the men will simply embrace, drink, and sing together songs of victory – or grief for brothers lost.
This circle of boasting and tribute and rugged bonding will go on through the night, becoming more ardent and enthusiastic until the sun comes up, or until all of the warriors have run out of drink. (If you wish to continue playing, you may always refill your cup as many times as you like, of course.) When the evening ends in whatever way it may end, hail your brothers in arms once more with the cry, "WE ARE TRUE MEN!", put out the campfire, and return to your tents. If there is any thing that you wish to do or say to your fellow soldiers before you go to do battle in the morning, now is the time to do so, for tomorrow it is very likely that you will die, and the things the need to be done or said will be left undone and unspoken for all time.