Game Poem 3: Three Old Men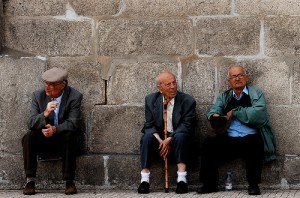 This game requires exactly three players. The three players will play the parts of three old men in a retirement community: Charles, Peter, and Michael. Each of these three men wish each the others dead. If there are more than three people who want to play, they may watch (as other residents of the retirement community), but may not intervene, and must remain silent for the duration of the game.
Beginning with the oldest player, each player chooses one of the old men to play. Charles is wealthy, and is willing to pay people to carry out his malicious intentions for him. Peter carries a heavy walking stick that he imagines that he will use to cave in the skulls of his enemies. Michael keeps a straight razor in his pocket, and he fantasizes about drawing it across the throats of the other two. In any life-or-death conflict, and only in a life-or-death conflict, Charles will win over Peter, Peter will win over Michael, and Michael will win over Charles.
Charles, Peter, and Michael have known each other since they were boys, and have shared much of their lives together. Now, every day, the three old men sit together and complain. They complain about their health, women, the weather, politics, the other people in the community, taxes, their children, people of other races or social classes, but especially, they complain about each other, and the wrongs that they perceive have been perpetrated upon themselves by the other two men.
The player who has chosen Charles begins by reminding one of the other two men of something that they did to annoy, slight, or injure him. This could be anything from borrowing money and not repaying it, to running down his daughter-in-law with an automobile, to taking the last good seat at lunch. It can be trivial or serious, but the complaint must be genuine, and bitterly felt. The accused man may choose to defend himself or not, but must very soon thereafter tell one of the other men why they have wronged him, in the same manner, and that man must lodge a complaint against one of the others again in turn, and so on. Each accusation leveled against one of the other players must be of increasing significance to the accuser – Charles spilling grape juice on Peter's white pants may not be objectively worse than the fact that Michael slept with Peter's first wife while he was away fighting Germans, but dammit, he liked those goddamn pants.
Two things may modify this circle of escalating indictments.
First, if anyone feels that their accuser has gone too far, struck them so deeply that they have no recourse but to finally make their stand, they may stand up and bellow, "God Dammit! That's enough!" When a player makes their stand against their accuser, they initiate a life-or-death conflict, describing how they intend to at last end the life of the miserable bastard. The man who is being attacked then describes the outcome of this conflict, remembering the rules above: Michael will always kill Charles, Peter will always kill Michael, and Charles will always kill Peter.
After one of the men is dead, the remaining two must pause, lock eyes, and regard each other before deciding what to do next. If one of them wishes to make a move against the other, now is the time. If a conflict results in one man remaining alive, alone, that man is the winner, and may take a sentence or two to describe what happens next, before fading to black.
The second thing that may be done within the circle of recriminations is to, when accused of a wrong by another man, instead of returning another accusation to one of the other two, to simply complain about something else. It's been colder this year than previous years, and my joints ache. Did you see that news story about that lady on welfare? It's been a month since my birthday, and that no-good grandson of mine still hasn't called. When a man issues a general complaint instead of lodging an accusation against another man, the others may either continue to respond with accusations as before ("Yeah, well I wouldn't visit an old louse who cheats his friends at cards, either!") or respond with another general complaint, either in agreement with the previous one, or on another topic altogether.
If it happens that all three men make general complaints without accusing another of wrongdoing, the game has ended. Each of the men in turn must look into the distance and say, "Yep." Then they all walk away, and will return to begin again the next day.